Want to elevate your mom-style this spring? I am sharing a few wearable spring trends to add to your wardrobe, plus some easy outfit ideas that are sure to take your style from basic to chic!
With all that is happening in our world right now, there are very few things that we can control. That reality hits hard in every facet of our lives—work, health and even shopping for household items. One thing we can control is how we show up for our kids and families every day!
One simple way to incorporate that daily is to get dressed. Yes, get out of your pjs, or maybe step away from your old faithful yoga pants for a bit and wear something that brings you joy. Taking a few minutes to intentionally get dressed for the day ahead will help you tackle the day with confidence, energy, and a sense of purpose.
Spring Style Picks
Here are a few great pieces to have in your closet this spring to make getting dressed easier.
Jeans: Step away from skinny jeans

Every woman needs a few pairs of jeans in her seasonal wardrobe. So an easy way to update your outfits this spring is to try a pair of cropped, straight-leg jeans. This silhouette is slimming, flattering on all body types, and shows off your cute shoes as the weather warms up. Show off those ankles, mama!
Easy, Casual, Everyday Outfit
This easy "momiform" as I like to call it, of a fitted sweatshirt, cropped jeans, and printed sneakers screams comfort, but is totally cute. Wear this outfit for a playdate in the park, running errands, or just around the house. To step this outfit up a notch add a green military jacket for warmth and more polish.
Add a puff sleeve to a basic shirt
Shoulder details and puff sleeves are definitely having a moment in fashion. These embellishments are fun and flirty, and so easy to wear. Every store I walk into, tops all have some kind of puff, pleat, or added volume. If you want to update your basic tee this spring, try a tee with some shoulder detailing.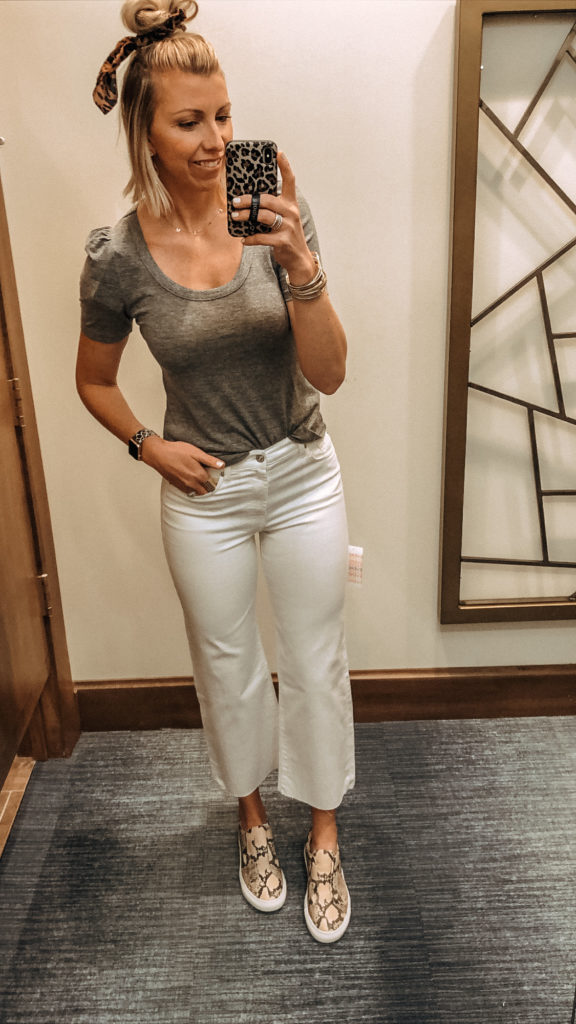 This basic grey tee has the slightest puff sleeve detailing and it makes it so fresh for spring!
Step Up Your Sneaker Game

White sneakers are always a great wardrobe staple shoe to own. But to step up your style this spring try adding some print or bold colors on your sneakers. As a busy mama of 3, I want comfortable footwear– and now I don't have to compromise on style either. Try a leopard or snakeskin print sneaker. Or a bold red sneaker. Adding something simple like an elevated pair of shoes can really make your outfits pop this spring.
I love the pop of leopard print and dark laces on these sneakers!
The LWD (little white dress) Elevated Everyday Outfit
A little white dress is the perfect all-in-one outfit for spring. It's light, bright, and so easy to wear. I love the eyelet detail of this one for more of a feminine touch. Throw a denim jacket over it with some sneakers to dress it down. Or wear this staple dress for Easter, Mother's Day, and through the summer on its own, paired with cute brown sandals.
Try cargo pants
I love the new updated version of cargo pants this season. They are a wider leg, cropped and dressier option. Give your joggers a break and try this style of pants. An olive green color is easy to mix and match with what you already have in your closet.
Pair cargo pants with a graphic tee, sneakers, and denim jacket for an easy outfit for every day (even if you're just staying home).
If you take anything away from this, just remember the importance of taking a few minutes each day for yourself mama, to get dressed, maybe put on a little makeup to start your day. I promise you will feel so much better & ready to handle whatever may come your way!
What are your favorite spring style finds?